Current world is characterised by hungry to feed our brains with intellectual capabilities.
To make this essential, girls must always be at the forefront of the race because they are future mothers who will decide the kind of the next generation we need to build.
Inclusively, Muslim girls are also ticking positively in the academia.
Malawi Muslim Website caught up with Fareedah Mussah, the only girl in the 2018 intake among thirteen students from Malawi who got the Egyptian Government scholarship to study at Cairo University in Egypt.
Fareedah Mussa is a first born child in a family of four. She is from Mangochi district.
Fareedah did her secondary school at Mayani Secondary School in Dedza district and Liwonde Community Day Secondary in Machinga district.
Later, she was selected to do a Bachelor of Science in Agricultural Extension at Lilongwe University of Agriculture and Natural Resources (Luanar)- Bunda Campus in 2017.
Fareedah only studied one semester then she got an opportunity to study in the land of pyramids, Egypt.
She is currently in second year studying Bachelor of Science in Nursing.
Malawi Muslim Website caught up with Fareedah to learn what hooked her interest to be a health student and her overview on Malawi health sector such as shortage of health workers.
She told Malawi Muslim Website that Malawi has enough health workers just most of them prefer to work in the health sector seeking for higher perks.
"I think currently Malawi has a lot of health workers. The problem is that most of them are choosing to work in the private sector for higher salaries. I think it should take our inner feeling that we didn't study for money but rather to help the people who need our services .If everyone can develop this mentality, we can't be complaining of health worker shortages,"
"Being a nurse it does not mean that the hospital Is my only working place. Even the community itself can be a nurse's work place. For me, I will use my knowledge to drill the community in health issues. Community awareness will be the most important thing in my career. If people are taught good lifestyles to prevent certain diseases, we can't have a lot of patients in our hospitals," she said.
Fareedah says health professionals should always be community based to alleviate diseases at the grassroot level.
"Our job as health workers has to start from the community and then to the hospital," she told Malawi Muslim Website.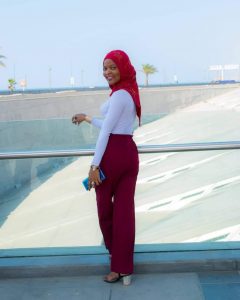 She says egyptian medical training is diverse because students do not just focus on health courses. She thinks the approach will help her to be essential in Malawi health sector.
"We do integrated lessons like entrepreneurship and Information Technology (IT) .For technology, sometimes we are given a link to develop an application that we should use in hospitals to teach patients on how they can manage their lives with the diseases they have,"
And for the entrepreneurship knowledge, we understand there are some people who get diseases bacause of poor socio-economic background, so when a nurse has been imparted with entrepreneurial knowledge, it becomes simple for him/her to direct his/her patients on how they can overcome some causes of diseases that come due to poverty," she says.
Fareedah told Malawi Muslim Website that in the next ten years, she sees herself owning a private clinic and becoming a role model of many girls in Mangochi.
"I see myself owning a private clinic. I see myself influencing few girls from my community,"
"My advice to my fellow lovely young Muslims is that everything is possible if we work hard and above all those five prayers everyday are everything. Ask God what u want and God will give it to you no matter how long it will take. God open more doors of opportunities if you workhard," she says.
Over 30 students are studying various disciplines at Cairo University under the Egyptian Government scholarship. The Arab League of Nations is also sponsoring students who are studying science programs.