Muslim health facilities in the country are working hand in hand with Government and other stakeholders in the fight against the novel Coronavirus (COVID-19) , Malawi Muslim Website can report.
Mackenily Mussa , a Laboratory Technician at Limbe Muslim Jamaat (LMJ) Clinic at Sun and Sand Holiday Resort in Mangochi told Malawi Muslim Website that the Clinic has bought Personal Protective Equipments (PPE) to be used by its workers when treating patients amid COVID-19 pandemic.
"Our clinic bought gowns , N95 masks, gloves , goggles, hand sanitizers among others for the staff to use when treating patients,"
"Not only that but we are also reminding patients to wash hands with soap before meeting a medical personnel. We are also urging them to observe social distancing," he told Malawi Muslim Website.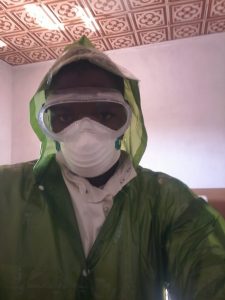 in
Yesterday, the country registered another death in relation to Coronavirus bringing the total number of deaths to 2.
Minister of Health Jappie Mhango told journalists that a Canadian man of Burundi origin who tested positive for the disease died at Bwaila hospital in Malawi's capital, Lilongwe.
The Malawi Minister of Health said the wife of the deceased and in-law were also tested positive.
Mhango told journalists that one Nkhotakota man who returned from South Africa had also tested positive for COVID-19 bringing the total confirmed cases of the disease to 12 in the country.
So far, no one has recovered from the disease.
Latest updates show that worldwide COVID-19 death toll is now over 102,000, with the number of infections worldwide topping 1.7 million, including more than 376,000 recovered patients.