Muslim students planted trees yesterday at Chisiyo Primary School in Malawi's capital, Lilongwe.
Representatives from National Muslim Students Association (NAMSA) and its affiliates Lilongwe Muslim Students Association (LIMSA) and Bunda Muslim Students Association (BUMSA) plus Lilongwe Muslim Youth (LMY) took part in the exercise.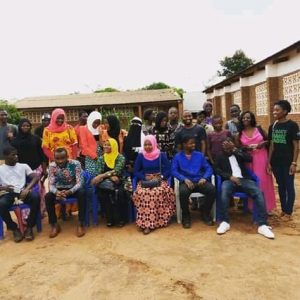 They were also joined by members from Chisiyo Youth Club (CYC), National Youth Council (NYC) and Youth Progressive Environmental Solutions (YPES).
Youth Progressive Environmental Solutions provided skills on how the students can plant trees.
NAMSA Vice Secretary Tanweera Chikwatu told Malawi Muslim Website that the students planted 260 trees in total.
According Chikwatu, the tree seedlings were bought by the students themselves through contributions.
She said the students have handed over the powers to the community members to look after the trees.
"Chisiyo youth club will be responsible for looking after the trees. We have handed over the responsibility to them through the school committee,"
"We have planned to be visiting the place regularly. This task is not only by NAMSA as the mother body, but all the groupings that took part in the activity," she said.
Chikwatu said the re-afforestation activities are important because they are associated with mitigating the effcets of climate change.
In his remarks, LMY Chairperson Bashir Kamwendo said working with the local youth club will help the community to take care of the trees own their own as it is a motivation to them.