The Chairperson of African Union for Persons with Albinism has asked Muslims in the country to add efforts in the fight against killings and abductions of persons with albinism.
The chairperson of the union, Overstone Kondowe made the remarks on Saturday during the launch of Nalikule College of Education Muslim Students Association (NCE MSA) in Lilongwe.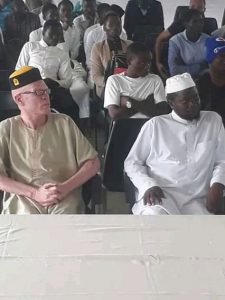 Kondowe who was one of the guest speakers at the function said Muslims should continue preaching against the misconception that one gets rich by using body parts of persons with albinism as charms.
He also urged Muslims to continue informing people that body parts of people with albinism do not cure one from HIV/AIDS among other misconceptions.
"A person with albinism is like any other . Whenever you see them, greet them because they are your friends. The kind of the skin they have is Allah's plan," he said.
Kondowe urged the leaders of the newly launched MSA to lead other Muslim students at the college diligently.
Amina Mussa, one of the Muslim students at the college hailed the turn out of people.
She told Malawi Muslim Website that among others NCE MSA will be informing Muslim girls about the essence of wearing Hijaab in secondary schools.
The launching ceremony held in collaboration with Lilongwe Muslim Students Assocation (LIMSA) under the theme " Muslim Youth and Leadership Skills in Islam."