MyFundAction, a nonprofit Muslim organization whose headquarters is in Malaysia, conducted iftaar program in Malawi through its Malawi representatives led by Sheikh Qullab Jim, Sheikh Umar Muhammad and Sheikh Yussuf Tenson.
The team, organized special Iftar programs in Malawi in the final days of the holy month of Ramadan as part of its wide range of charitable programs which it facilitates and implements across the middle East and Africa.
MyFundAction is operating in Egypt, Chad, Malawi, Cote d'lvoire, Benin, Mali and Cameron under the slogan, "We share together".
The organization prepared iftar meals worth millions and distributed to everyone present during the time of breaking the fast.
The program was conducted in three various locations namely; Chilinde 2 main mosque, an Orphanage centre and a madrasah in Chinsapo 2 in Lilongwe respectively and Chiunda Village in Dedza district, in three consecutive days.
The project was under the theme: "Special Iftar for Ummah (SIFU), We share together".
Speaking at Chilinde 2 main mosque, the chairman of the mosque, Sheikh Qasim Wasili Mangochi, thanked MyFundAction Africa for remembering the Muslim brothers and sisters in Malawi especially his area in their various projects.
"It is not taken lightly that this organization, MyFundAction, is here today, in my area to see us and provide Iftar meals to us. We thank Allah for this gesture and we thank the leadership of MyFundAction for coming to us. This is a welcome program and it is our prayer that this does not stop here, but rather the beginning of many programs to come that will benefit us and the community at large," he said.
He stressed the importance of unity and sharing among Muslims and referred to the occasion as a clear example of unmarginalised love and unity across the globe.
"Let me say this and I will be honest about it. These people, MyFundAction Africa who also work in the middle east and beyond, they don't know me, they don't know you, they don't know us, they simply know that we exist somewhere in Malawi and chose to do something about it. This is a clear sign of unmarginalised love and care. We all should learn something from this occasion and learn to love one another and share the little they have," he said.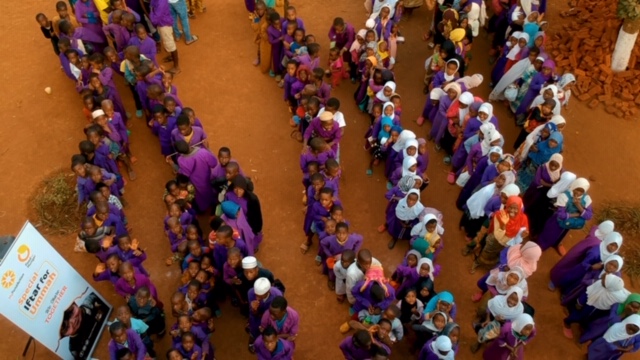 In his remarks, the guest of honor at the function, Sheikh Qassim Abdullah, who is district Chairman of Ulama council of Malawi, called upon the wealthy and those capable to follow through with the teachings of Islam and give out what is required of them to the poor and needy.
"I would like to use this opportunity to remind those stingy rich people to open their arms and give out the right of the poor and needy in their wealth. In those riches you are blessed with, in that wealth you have, there is a portion that belongs to the poor and needy as per the Qur'an and Sunnah, give it to them while you still can," he said.
He also called for unity of purpose and serving mankind irrespective of blood relations and race.
"All Muslims are one big family, we should all help one another regardless of family relations, race or tribe. We should all unite and serve humanity with passion and dedication," said Sheikh Abdullah.
In his closing remarks, Sheikh Yusuf  Tenson thanked the Muslims of the community and their leadership for their total cooperation and the love they showed throughout the program.
He further assured them of other charity projects pending ahead.
Adam Tiyes, a Nasheed artist, was among the volunteers and entertained the gathering.