Muslim students at Nalikule College of Education will launch their association at the collage's premises along Lilongwe-Salima road on Saturday, 18th January, 2020.
The launching ceremony will be held in collaboration with Lilongwe Muslim Students Assocation under the theme " Muslim Youth and Leadership Skills in Islam."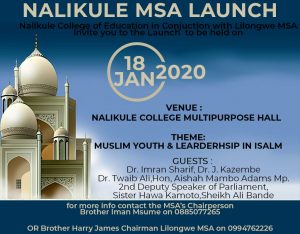 Among others, the event will be graced by Chancellor College Lecturer Dr Imran Sharif and Second Deputy Speaker of Parliament Aisha Mambo Adams.
The third year Bachelor of Science Education, Major in Human Ecology student Amina Mussa told Malawi Muslim Website that the association will unite Muslim students at the college.
"Having the association will help us to be one as Muslim students. And also through the association , we shall be able to share the concepts of Islam," she said.
Nalikule College of Education has twelve Muslim students.
Muslim students in secondary schools colleges and universities form associations to facilitate their activities.
All the associations are guided by National Muslim Students Association (NAMSA), a national body for Muslim students in the country.