Muslim students in the country have expressed worry over dormancy of the National Executive Committee (NEC) of their mother body called National Muslim Students Association (NAMSA).
The students through their regional Muslim Students Associations (MSAs) are accusing the executive members for failing to coordinate the MSAs after spending eleven months in office.
In a letter dated 30th September, 2019 signed by executive members from Northern region , Southern region , Central region and Eastern region MSAs,the students need NAMSA NEC to be vibrant as it is mandated to coordinate all Muslim students through their MSAs in the country.
"We are writing to raise our concern with the current state of NAMSA and we are requesting you take take action on the same. Regional MSAs were established by NAMSA mother body with a sole aim of ensuring proper coordination of NAMSA activities in the country,"
"Each region executive is supposed to run for a year and after that fresh elections are supposed to follow . According to the agreement ,these elections are to be handled with assistance from NAMSA, unfortunately this has not been the case," reads part of a letter addressed to NAMSA NEC.
Malawi Muslim Website has learn from a letter that proper coordination between NAMSA NEC and regional MSAs has seen Northern region MSA to have a chairperson who graduated.
"It is a difficult situation especially for the northern region since they are serving their second term in office as delegated term as their official term ended in June 2018. Worse still, the Chairperson for the Northern region is no longer a student as he graduated but he is still forced to be leading the students since there is no one to officially take from him through proper channel of elections, " reads part of a letter.
The students are also accusing the mother body of lacking action plan to enable it discharge its duties .
"We are not sure if NEC has an action plan and if the NEC office bearers know the responsibility they have to us as Muslim students in Malawi. We are really worried that this might be the end of NAMSA,"
"If no proper actions to reverse the situation are to be taken, NAMSA being the umbrella for all Muslim students across the country will die spelling doom to all Muslim students across the country,"reads part of a letter.
Responding to the queries, NAMSA promised to address the issues rocking the body.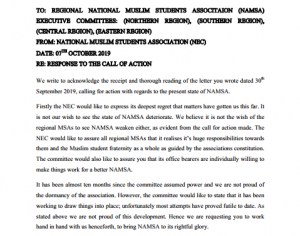 In a letter signed by NAMSA Chairperson Yassin Sadi and NAMSA Secretary General Aisha Senga dated 7th October , 2019 , NEC also expressed dissatisfaction with the current status of the Muslim students mother body.
"NEC would like to express its deepest regret that matters have gotten us this far. It is not our wish to see the state of NAMSA to deteriorate. We believe it is not the wish of regional MSAs to see NAMSA weaken either, as action for the action made,"
"The NEC would like to assure all regional MSAs that it realises its huge responsibilities towards them and the Muslim students fraternity as a whole as guided by the association constitution. The committee would like also to assure you that its office bearers are individually willing to make things happen,"reads part of a letter.
However, Malawi Muslim Website has established that NAMSA NEC has not called for fresh elections to usher in new representatives in Northern region among other issues.