Islamic organisation called Nasiha Trust in conjunction with the Lilongwe Asian Business Community through Bilal Trust -Central Region has donated sanitization items to Nkhotakota Police Station on March 28, 2020 to help in fighting against Coronavirus (COVID-19).
The organization also donated to Nkhotakota Prison Staff and to over 30 villages.
In his remarks, Nasiha's Director of Programs, Mr Nazir Choonara said Nasiha Trust is a Muslim based organisation which believes in helping and supporting the needy.
"We thought it wise to donate these items to this formation as officers are very vulnerable to the virus because they are in the front line serving different people. Therefore, there is a need to support with items that can protect them from the virus," said Mr Choonara.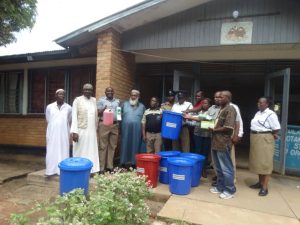 The organization donated five plastic buckets of 25 litres each, one carton of face masks, one carton of hand groves, ten tablets of Dettol soap and five litres of hand sanitizers.
Nkhotakota police station Officer In-Charge, Timothy Phiri Senior Assistant Commissioner of police (SACP) thanked Nasiha Trust for the timely donation.
Phiri appreciated for the good gesture and asked them to extend the donation to other vulnerable institutions.
According to Ministry of Health, coronavirus can be prevented if people can improve their hygiene by washing their hands with detergent soap, sanitisers or maintaining social distance among others.