Malawi Muslim students body called National Muslim Students' Association (NAMSA) through its southern region chapter on Saturday, November 9, 2019 has organised a get together at Malawi University of Science and Technology (MUST), under the theme "How can Muslim students excel with their education."
Speaking in an exclusive interview with Malawi Muslim Website, NAMSA-southern region chapter chairperson, Abdullah Willy Chapola, they have organised a gathering to instill a spirit of hard work in students so as to boost the number of Muslim students in higher learning institutions and
to motivate secondary school students.
"The main activities on the day will be motivational talks from young professionals and college students to the secondary school students. We shall also coach secondary school students who have just passed MSCE on the courses offered in different universities and colleges in malawi and their requirements so that they should choose wisely in the forthcoming university application," he says.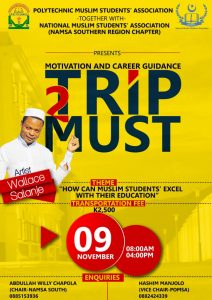 Chapola who is a fourth year Bachelor of Science in Quantity Surveying student at University of Malawi-The Polytwchnic says the gathering is beneficial to the secondary secondary school students because they will be equipped with unique approach to realise their academic dreams.
According to the chairperson, the function will also foster unity because students from The Polytechnic, MUST, College of Medicine , International College of Business Management, Malawi College of Accountancy, Catholic University and secondary schools from Blantyre, Thyolo and Chiradzulu will converge together.
NAMSA-southern region chapter has organised the function in collaboration with The Polytechnic and MUST.