Bright Malenga: Tell us your biography.
Matilda Ngoma: I am Matilda Isaac Ngoma, a third born in the family of Five. Two girls and three boys.
My mother is from Salima district and my father from Balaka district.
Bright Malenga: Take us through your academic journey.
Matilda Ngoma: I went to Dzenza Mission Primary School and Kalambo Full Primary School in Balaka district,then did my Secondary School at Mama Khadija Girls Academy in Mangochi district where I got 29 points upon sitting for Malawi School Certificate of Education (MSCE) examinations in the year of 2012.
Bright Malenga: 29 points were a bunch of points.What was your next move?
Matilda Ngoma: I wasn't satisfied with the points and then I went back to sit for examinations again in the year of 2013 but because of some other challenges , I failed to write the exams.
I applied for teaching primary vacancy in the same year and fortunately was selected for the course. Before thinking of going back to school , I remember I had this small job where I worked at a certain shop as a cafe assistant for typing and printing out documents (though worked for a month then went back to school).
Since school didn't work, that's when I applied for teaching primary vacancy . While I was waiting for the vacancy to come out , I got another job as a shop assistant where I was selling groceries. I worked there for 3 months then that's when I was told to that I have been selected to go to St Joseph Teachers Training College (TTC) in Dedza district.
I stayed there for 2 years and completed the course. Upon my stay in TTC , I always wished to go back to school and rewrite my MSCE because I wasn't feeling satisfied of being a primary teacher my whole life , so soon after completing the course in 2015 , I was still willing to to back to school but wasn't financially stable at that time , no fees , school uniform and other necessities.
Fortunately , while in attachments ,we were given some allowances every month to support ourselves so it happened that they had to give us the money after completion due to other delays. Though it wasn't enough , I used it to pay for one term fee,
bought school uniform and other items . I didn't know what would happen in the other terms but Alhamdullilah my parents and brother started supporting me after seeing that I have encouraged myself to go on with school again.
I completed and got 16 points in 2017. I was the only girl on top. Then I applied for University of Malawi (UNIMA) and got selected to go to Chancellor College to pursue Bachelor of Education in Computer Science and now I am in my second year.
I come from the family where I am the first person to go to the university then followed by my siblings where one is at Chancellor College as well but under Physics Department and the other one is at Mwimba College of Agriculture.
Bright Malenga: You are so ambitious Matilda, what are your future plans?
Matilda Ngoma: My future plans are that I want to have my own business company though still researching and be an expert in my career.
I also want to support my fellow women in attaining their careers especially those who want to go for Science Programs since now I am among one of the girls being mentored by Science Mentorship Program under GSTEM Malawi (Girls in Science , Technology , Engineering and Mathematics ) network.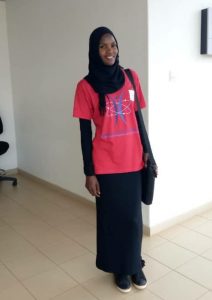 Bright Malenga: You didn't give up on your future. What is your advice to the Muslim girls who may be hopeless ?
Matilda Ngoma: My advice to all Muslim gilrs is that they should never give up no matter what ! they may face in life. They should always stick to their dreams and not listen to those who try to bring them down because in the process of trying to reach where your goals are , you do meet different challenges including people full of discouragements but what matters most is who you are and what the change you are trying to bring in your life and society.
To all Muslim girls who need to emulate me , they should not quit but rather find positive solutions to their challenges , change begins with you and same as hard work .It doesn't matter where you are or who is above you to achieve something in life but always striving for to get what you want is what matters most.
Bright Malenga: Show us the image of Matilda outside the lecture theatre at Chancellor College?
Matilda Ngoma: After classes , I like cooking and reading books.
Apart from studies I do business , currently, I raise chickens , I also sell boiled eggs. I want to have more experience in business.
Feedback: malengabright@gmail.com.