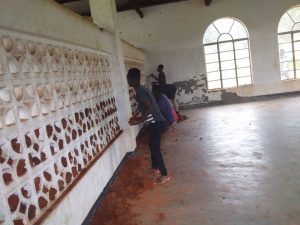 Muslim students at Lilongwe University of Agriculture and Natural Resources (Luanar) – Natural Resources College (NRC) campus have rehabilitated a mosque, yesterday.
The students under their umbrella, NRC Muslim Students Association (MSA) have renovated Nkhwidzi Mosque which is near the college.
The Secretary of the Association, Zainab Aboubakar Mussah told Malawi Muslim Website that they have renovated the mosque because it was looking old.
"We, Muslim students at NRC have maintained Nkhwidzi mosque because the mosque was not in a good condition. We also pray from the same mosque,"
"Among others, We have painted and replaced damaged glasses of the mosque so that it can regain its beauty. This is the house of Allah and it must be taken care of always," she told Malawi Muslim Website.
According to Mussa, the students have also provided cups and buckets to be used during ablution.
"We want to maintain a conduncive environment for prayers. This is also another way of getting rewards from Allah," she said.
Mussa has also said preparations to donate to Kachere prison in Lilongwe are at advanced stage and they are asking well-wishes to support them.
"We shall soon donate to Kachere prison because preparations are underway. We are asking well-wishers who can help us to come in so that we can make our initiative extraordinary," She said .
Luanar-NRC campus has over 80 Muslim students who are studying various programs.