Yusuf Chimole ,a fourth year Bachelor of Science in Information Technology (BSc IT) Muslim student at The Polytechnic has been selected among 45 Next Einstein Forum (NEF) new Young Science and Technology Champions (2019-2021) from African countries.
Chimole aged 22 has developed various Information Technology projects.
In May this year ,Chimole's startup Lync Systems with project Lync Energy System named as the winner of National Youth Innovation Award in the ICT category , a competition organised by National Youth Council of Malawi to recognise youth in the business sector.
Malawi Muslim Website had an exclusive interview with Chimole who attributed his success to hard work.
"I am a fan of open-source, creative and analytical thinking, election systems and programming. I am currently learning Internet for Things concepts and how to implement it,"
"Self-taught and driven, bridging IT and engineering is my aim. I am a limitless person when it comes to knowledge inquiry. I believe that every knowledge that one encounters, just grab it, it will be used somewhere someday in life," he told Malawi Muslim Website.
Last month,Chimole was chosen to be among 1000 youths in the world to attend the Worlds Expos , officially known as the International Registered Exhibitions in China with his system Lync Energy.
"A systematic approach of teaching modern science in High Schools , Secondary Schools and some University students.The project aims at teaching concepts about Science and Technology Engineering Art and Mathematics (STEAM) , Robotics and United Nation Sustainable Development Goals (UN SDGs). The system uses a practical approach where students are taught from problem analysis to solution implementation,"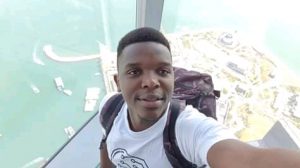 Other projects he has worked on include Robotic Arm Building (2016-2019) and Automation Control Hub (2017) and he has so far received a total of 8 local and International awards.
"I have been building different versions of Robotic Arms from Scratch . My first version was made out wood and acrylic and controlled by a mobile phone. Later on, another version was built and it was made out of Aluminum. It has plastic tracks instead of wheels, it uses strong motors," he said.
On Automation Control Hub Chimole said this is a device that controls electrical appliances using mobile phone , a remote server and it can be used to collect data and also used as a security camera as well.