One of billionaires in the Kingdom of Saudi Arabia (KSA) ,Sheikh Sulaiman Alrajhi is financially supporting Malawi Muslim medical students at his Sulaiman Alrajhi University.
Sheikh Alrajhi, a renowned business man in the Arab world is supporting four Malawian students. Two are studying Bachelor of Medicine and Bachelor of Surgery (MBBS) while the rest are pursuing Bachelor of Science in Medical Laboratory.
Ahmad Dickson is one of the beneficiaries and he is a second year MBBS student.
Dickson told Malawi Muslims Website that Sheikh Sulaiman Alrajhi deserves rewards in this life and life hereafter.
"May Allah reward and guard him and his family always. This is what I can say to our beloved Sheikh Sulaiman Alrajhi. He is not only a blessing to the humanity but also a motivation to anyone who gets across his biography," Dickson said.
He told Malawi Muslim Website that he opted for MBBS because of situations he had gone through in life.
"At 11 year old, I lost my mother due to wrong prescription of an incompetent doctor. At 21 year old ,I lost my father due hepatitis. I wished I had medical knowledge, possibly I could have offered primary preventive measures to my family members,"
"The treatment our wives, sisters and mothers receive during labor and other consultations gives me the motivation to graduate as a competent and extraordinary doctor who will be able to offer something beyond medical professionalism," he said.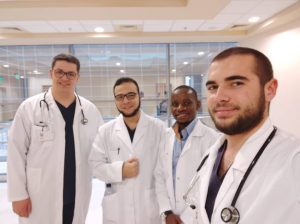 Dickson says he will combine his knowledge and skills with those of others to address challenges facing Malawi health sector.
"I believe challenges facing Malawi health sector will be addressed through joining forces with professionals in the same field or creating a platform with competent professionals who are willing to bring positive results, with the burning desire to address same problems collectively," he said.
Sulaiman Alrajhi University is an international private university in Qasim city, Bukairiyah in KSA.
The varsity is well accredited with four programs namely Bachelor of Medicine and Bachelor of Surgery (MBBS), Bachelor of Nursing, Bachelor of Science in Medical Laboratories and Bachelor Business Studies.
The university was established in 2009.
The vision of Sulaiman Alrajhi University is to be a leading institution in education, research and services at national and regional levels.
The mission of the university is to contribute to the development of societies through building leaders, quality education, research and services.