Girls in the country have commended the great work that the leading Islamic charitable , Non-governmental Organisation (NGO) Bilaal Trust is doing through Maryam Teachers Girls Training College.
The only female teachers training college in Malawi which is situated in Mangochi provides training to Muslim and non-Muslim girls who have completed secondary education and have a passion to become professional primary teachers.
Malawi Muslim Website discovers that the college is playing a pivotal role in alleviating the critical shortage of primary teachers in the country.
Maryam Ndembo told Malawi Muslim Website that the college's conducive is an ideal for a passionate girl who need to be a productive and responsible teacher.
"I was at Maryam Girls Teachers Training College from 2014 to 2016. It is my pleasure to be trained by the college because it has a conduncive environment for learning," she said.
According to Ndembo, the strong Islamic principals at the training college helps the girls to be shaped into moral primary teachers.
"Being an Islamic institution , it helps to shape moral teachers to serve well in various primary schools across the country . The good thing is that the college also enrolls non-Muslims,"
"It is a best place because there is no socializing. Everyone is just focused on education and practicing our beautiful Islam," she told Malawi Muslim Website.
Ndembo who is currently teaching at St Joseph primary school in Mangochi said , the teachers training college demands a small amount to offer its best quality education.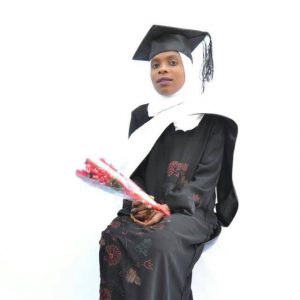 Bahart Matiya is another female teacher among a lot of teachers those who have benefited from Maryam Girls Teachers Training College.
Matiya said that the college among others help girls who would otherwise marry to realise their dreams of becoming productive citizens.
Matiya who was at the college from 2015 to 2017 is currently teaching at Mgwilizano primary school, Chinkhwa village, Traditional Authority Pemba in Salima district.
Prisca Banda is a student who is currently undergoing a teaching training at the college and she has commended support that the college provides during practicals.
"I am currently doing practicals at Nkhonde primary school , Hindahinda village , Traditional Authority Amidu in Balaka district. The college is awesome because of how it turns students into professional teachers. The college provides teaching resources during practices that help us to be motivated and serve diligently," she told Malawi Muslim Website.
Maryam Girls Teachers Training College was established in 2005 on realisation of the critical shortage of well qualified teachers and to provide a teacher training opportunity for girls,who successfully completed their secondary education.
Thanks to one of largest Islamic charitable NGOs in Malawi, Bilal Trust for the brilliant idea.
Bilaal Charity Trust also has International College of Business College (ICBM) which is providing various business programs to Muslim and non-Muslim students in the country.
The outstanding Islamic organisation also provides Islamic studies, primary and secondary education, healthy services and various social economic empowerment to the citizens of the country.
Among others, the charitable Islamic organisation distributes sewing machines, fishing boats and nets. The Islamic organisation also drills boreholes and water and constructs mosques.
Diligence and professionalism over the years have drawn strategic strategic relationships with other NGOs both local as well as international.
Bilaal Trust has successfully completed projects and programs with Islamic Development Bank (KSA), Ummah Welfare Fund (UK) Muslim Aid (UK), Muslim Aid Australia, Al Imdaad (South Africa), Malawi Relief UK, Dedza Welfare Trust UK among other reputable organizations and development partners.
With the growing need and demand for the services of the organization, Bilal Trust spread its wings to the central region of the country.
Bilaal Trust Central Region is serving the region outstandingly. Bilal Trust Central Region is constructing boreholes, distributing bicycles and food among others.
In 2018, in conjunction with Muslim Aid Australia , Bilaal Trust Central Region undertook an eye cataract program. During the program , 276 patients were treated of which 55 underwent cataract operation.
Bilaal Trust Central Region is also sponsoring students in the country and abroad such as at Islamic University in Uganda (IUIU).
Additional information sourced from Bilaal Trust Magazine.
#MalawiMuslimExclusive.