Two Malawian students at Islamic University in Uganda (IUIU) have been appointed into the 2020-2021 Islamic University Students' Union (IUSU) Government.
Bright Malenga, a second year Bachelor of Science in Mass Communication student has been appointed as Minister of Information while Ella Cossam , a first year Bachelor of Public Administration student has been appointed as Public Relations Officer in the Students' Union Government.
Speaking in an interview with Malawi Muslim Website, Bright Malenga commends the Guild President of 2020-2021 IUSU Government Yusuf Welunga for the appointment.
"I am so grateful for the appointment. I am not competent enough but His Excellency Yusuf Welunga has entrusted me with this great role. With the help of God I will serve the students diligently," Malenga said.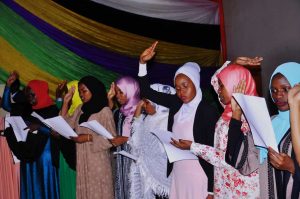 He said it is very important for Malawi students to be in the Students' Union Government because it shows that Malawi exists at the university.
"We need to have representatives from Malawi in the Government. It is very important because it help us to feel valued . IUIU is the best University and Uganda is our second home. We feel proud to learn at this university,"he said.
Malenga said his journey in Uganda has been good so far.
"I joined IUIU in 2018 and the same year, I was appointed as the Class Coordinator. The other year I was also appointed as Editor of Islamic University Mass Communication Students Association Wall Journal. It has been an amazing journey,"
"I thank God for His love. Since coming here, I have for the past three semesters managed to score First Class /Distinction. I have a Degree of the First Class status so far, I thank God. I always pray to maintain the score to have a Degree of the same status, God willing," he said.
Malenga commended Bilal Trust-Central region for sponsoring his education at Islamic University in Uganda .
"It could have not been possible to come here. You know learning abroad is expensive and my mother couldn't manage to finance my studies. Bilal Trust-Central region came in and pledged to support my studies. May God reward them abundantly," Malenga said.
Islamic University in Uganda has over 50 students from Malawi who are pursuing various programs such as Bachelor of Laws , Bachelor of Medicine and Bachelor of Surgery, Bachelor of Science in Environmental Science, Bachelor of Science in Information Technology, Bachelor of Statistics and Bachelor of Nursing Sciences.