Malawi students at Islamic University in Uganda (IUIU) have been urged to use their chance of studying at the institution which has scooped three academic awards in 2019.
The call was made by former Islamic University International Students Union President Farooq Wassie during a gathering that the students organised on Sunday in the 'Pearl of Africa.'
"Take your presence at IUIU as an opportunity because this institution is one of best universities in Uganda and probably in the world. This University has taught various Malawians who are playing vital roles in developing Malawi," said Wassie who graduated with Bachelor of Information Technology from the university last month.
He told the students to work hard in their studies to be competent intellectuals.
"IUIU has rules that seem to be tough but they are important. They are important in IUIU and after leaving this great institution. Just work hard in your studies and enjoy your lives after leaving the premises of Islamic University in Uganda ," he said.
Wassie who was also Cabinet Minister of ICT in 2018-2019 Islamic University Students' Union Government urged the students to be united.
"We are away from home and we are a family here. We need to be an unbreakable team, always. We can achieve everything if we are united. We need to be loving one another," he said.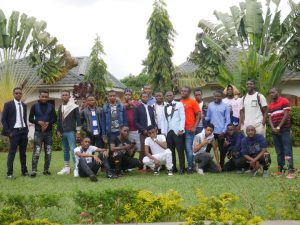 Hussein Kosombe,a first year Bachelor of Medicine, Bachelor of surgery student said current students should always emulate what former IUIU Malawian students were doing.
"Former IUIU students were hard working and united, that is why some of them are elective positions such as Members of Parliament in Malawi National Assembly while some are working in the parastatals and private institutions," he said.
He urged the students to know why they are in Uganda.
"We are in Uganda for one objective and that is to obtain our degrees at the end of our academic journey. Let's strive to make it rain. We can also explore other important areas of this great nation. We can be travelling to other scenic areas such as national parks. That is still part of learning," he said.
The gathering brought together IUIU Malawian students from three campuses namely Main Campus in Mbale, Kampala campus in Kubuli and Females'campus in Kabojja.