Madrassah Competetion Committee, has encouraged children and youths in the country to work hard in pursuing deen education.
The encouragement came through Yesterday when the committee conducted a Madrassah competition in Lilongwe where Students from different Madrassah's in the District were competing in 3 categories namely, Quran recitation, Arabic and Seera.
In an interview With Radio Islam, a member of the committee, Fazira Kaunga, said they organized the competition to empower and encourage Children to work hard in Madrassah and to know their deen through the teachings of Islam.
"The committee will continue conducting more Madrassah competitions across the country so that they should reach out to more Muslim children, " Said Kaunga.
During the event, those who took the first place in each category were given 15 thousand Kwacha, Sugar and bread while those who took the second place were given 10, Thousand Kwacha and Bread.
One of the winners who took the first place in the Quran category, Lukayya Karim from Mchesi Madrassah, said she was happy that she won the competition.
She advised the ones who did not win the competition to go and work extra hard so that they should also win next time.
"I also advice children who do nit go to Madrassah to start going so that they should learn about deen "Said Karim.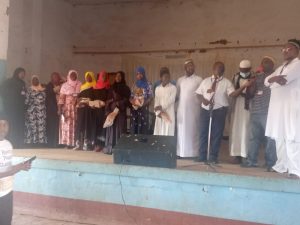 Commenting, one of the judges, Qassim Abdullah appreciated the way students from different Madrassah's are performing.
He said there is still need for improvement and he asked ustadhs in Madrassah's to make sure their students are improving by teaching them in a way they will understand.
"I advise those who have won the competition to continue working hard, and those who have lost should improve and work extra hard so that they win in the next competition, " Said Abdullah.
One of the ustadhs from Falls Madrassah, Yahya Saeed, appreciated Madrassah competition committee for conducting the competition saying it has encouraged the ustadhs together with the students.
"We have learnt alot from each other's Madrassah's as we have known the things wehave not been doing right and we will make sure to improve, "Saeed Explained.
Madrassah's from Mwenyekondo, Chilinde msosa, Area 25, Likuni, Falls and Mchesi among others, respectively took part in the competition.