Malawi Government says it is committed to completely end loadshedding in the country.
This was revealed yesterday by the Principal Secretary (PS) in the Ministry of Energy during the press conference for the JICA funded project on the improvement of sub stations in Lilongwe City.
Speaking at the presser PS, Eng. Alfonso Chikuni said, Government of Malawi through Electricity Supply Cooperation of Malawi (ESCOM) is committed to completely end loadshedding by improving electricity supply to its customers in the country.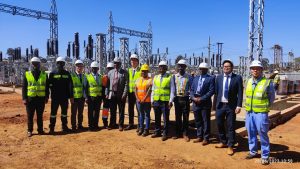 According to Chikuni, the JICA funded project is very important because it resolves issues that ESCOM and consumers were facing in Lilongwe and the Central region at large.
"The project holds significant value because it enhances the capacity which in turn enhances the liability of the system, security of the system and again it is a modern peace of equipment. The two substations they are being installed with modern equipment and the modern equipment integrates a lot of technologies, you heard from the COO that it will now integrate the renewable energy," he said.
Chikuni added that the coming in of this project, the rehabilitation and the expansion saves to go beyond the current customers, to reach out to those that are currently unsaved.
In his remarks ESCOM Chief Operating Officer Maxwell Mulimakwenda said through this project they will upgrade Kanengo Sub station from 85MW to 158MW thereby making it possible for ESCOM to accommodate about 60,000 new connection.
He added that the project involves upgrading of old town substations from 37.5 MW to 50MW thereby allowing ESCOM to connect 21,000 new customers.
"In a nutshell, the project involves installing an additional 50 MVA, 132/66kv interbus transformer and associated switchgear at Kanengo Sub Station, installing an additional 25MVA, 66/66Kv interbus transformer with a SOMVA transformer and associated switchgear, replacing a 12.5MVA, 66/11KV transformer with a 25 MVA transformer and associated switchgear and constructing a control building," he said.
Mulimakwenda added that: "The Old Town project involves construction of a new 50 MVA substation which will have a new 25MVA, 66/33Kv transformer and associated gear, installing a new 25MVA 66/11kV transformer and associated switchgear and constructing a control building."
According to Mulimakwenda, the project has achieved a key milestone evidenced by the arrival of five transformers through Dedza Boarder Post on Tuesday, 27th June 2023 and also the construction works.
On his part, Mr Seiji Tashiro, Charge d'Affaires, Embassy of Japan in Malawi said the priority areas of Japanese Country Assistance Policy for Malawi focuses on "Quality growth" which is becoming increasingly important and Japan will further focus on addressing various challenges such as food and energy security.
"This project aims to support the people of Malawi to have access to improved transmission and distribution of energy for reliable and stable supply of electricity for sustainable economic and social development activities in Lilongwe City," he said.
The implementation of the project has been made possible courtesy of a 2.891 bilion Yen (USD 19.053 milion) grant, which Japan International Cooperation Agency (JICA) signed with the Government of Malawi in Lilongwe on 18m October 2021.
The Government of Malawi is co-financing the project by, among other aspects. funding preparatory components of the project to the tune of USD2 million thereby translating to USD 21 million as the overall cost of the project.