Malawi president, Dr. Lazarus Chakwera has emphasized on the need to focus on productivity to enhance the country's economic growth.
The President was speaking on Wednesday at the MCCCI grounds when he was officially opening the 33rd Malawi International Trade Fair and officially inaugurating the Malawi Bureau of Standards (MBS) Laboratory and Office Complex in Blantyre.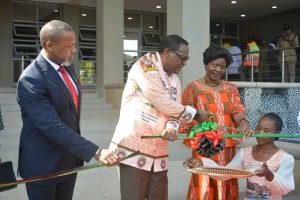 Speaking at the event, Dr Chakwera said from the inception of his administration, his top priority has been to increase Malawi's productivity
through the promotion of commercialization, industrialization and urbanization.
"I am persuaded that increased productivity is the key to achieving job creation, wealth creation, and food security. This pursuit of increased productivity is the reason I addressed a global forum of international
investors within the first sixty days of being in office," said Chakwera
He added that the country must focus on productivity because it is what suffered most in Malawi's economy.
"When past decisions saddled our country with unsustainable debt,our productivity suffered. When Covid-19
entered our borders and forced us to restrict movement for public safety, our productivity suffered. When Tropical Storms Ana and Gombe fell on us weeks apart from each other and took out a third of our power supply, our productivity suffered," he said.
President of Malawi Confederation of Chambers of Commerce and Industry (MCCI) Lekani Katandula said the incentives for mega farms that was introduced in the 2023/24 National Budget, if properly implemented, will help in encouraging productivity.
"A lot still needs to be done to complement these incentives. We therefore still want to see deliberate incentives to make long-term financing affordable for targeted growth sectors like mega farms, agro-processing, energy generation, tourism and broader industrialization, especially in areas that help grow exports or substitute imports with local production, "he said.
He expressed gratitude to the peole who took part in showcasing their products and services at the fair.
The Board Chair of Malawi Bureau of Standards (MBS), Davlin M.D. Chokazinga said the construction of the facilities is timely as many of their operations needed the same.
"Therefore, in order to provide internationally recognized services, the MBS needed to have facilities and competent human resources that are at par with the international best practice," he said.
He continued to thank the State President for the support rendered to them to finish the project.